Oracle HCM Cloud​
Clarity decided to move from open HR system to Oracle HCM Cloud.​
By this way standard HR processes like maintaining HR data, performance reviews, competencies etc can be streamlined within a single HR system.​
Advantage of selecting Oracle HCM Cloud:​
Lower cost on Infrastructure and Hardware maintenance​.
Benefit from continuous improvement​.
Enhanced user experience with complete HR Lifecycle​.
Benefit from enhanced compatibilities like digitalization, social and analytics​.
GDPR compliant application​.
HCM Cloud – Midsize​
Clarity has subscribed Oracle HCM Cloud midsize with the below cloud services.​

Global HR​
Career Development​
Expenses​
Goal Management​
Performance Management​
Transactional Business Intelligence​

Current version of our HCM Cloud is R13 (update 20D).​
Artificial Intelligence (AI)​
Artificial Intelligence(AI) is the simulation of human intelligence processes through machines. The processes include learning, reasoning, and self-correction.​
Below are different ways to implement AI.
Chatbot​
Robotic Process Automation(RPA)​
Machine Learning(ML)​
AI Benefits in HCM Cloud
AI would definitely improve productivity in HR processes with delivering simpler and intelligent user experiences.​
AI benefits:​
Improves ROI of ERP/HCM.​
Reduces costs.​
Improves employee engagement​
Improves user-friendliness​
Can make ERP systems more humane(intuitive, friendlier, intelligent).​
Specially in HR domain employee engagement improvements can go a long way.​
How AI helps in HCM Cloud?​
It helps by:​
Improving engagements; makes ERP more interactive and engaging.​
Automation; adds automation to rudimentary tasks.​
Can provide more analytics & insights.​
AI Areas in HCM Cloud
An informative interface : Allows employees to highlight the data and details they care or need most with easy to read format and/or with updated analytics.
Recruiting Capabilities : Help candidates to search jobs and get information directly and auto alerts related to any updates. Recruiters benefit from in-line AI and data-driven candidate recommendations that reduce time-to-fill and cost-to-hire.
Onboarding : Enhanced collaboration between new hires, managers and HRs to streamline onboarding process.
HR Helpdesk : Extended knowledge capabilities with management of employee relations cases with configurable actions.​
Chatbot​
A Chatbot is an AI software that interacts with users in a natural conversation through messaging applications, websites, mobile apps, or through telephone.​
Below are the core tasks behind a Chatbot:​
User request analysis : Analyses the user's request to identify the user intent and to extract relevant entities. ​
Returning the response : Once user's intent has been identified, chatbot provides appropriate response. The responses may be text, data stored, graphics etc.​

HCM Chatbot Use Cases​
Chatbot app can offer below services if implemented:​
Enable quick way for employees to review their benefits, timesheets, vacation, holidays, payroll, and other HR Information anytime. This would alleviate HR staff from having to respond, retrieve and communicate the information, making them more efficient.​
Allow candidates to search jobs and get quick information related to any queries.​
Remind HR Users of required tasks they have yet to complete like timesheets, benefits enrolment, registration to health and wellness programs.​
With further enhancement chatbot can be customized to get detailed information from 3rd Party vendors.​
Chatbot can also be mobile enabled so that information can be extracted whenever and wherever.​
HCM Chatbot Example​
To enable custom chatbot in HCM Cloud, follow the below steps:​
Access application with user with page customization rights​
Create sandbox and activate​
Apply the Java Script by editing the page​
Publish the sandbox​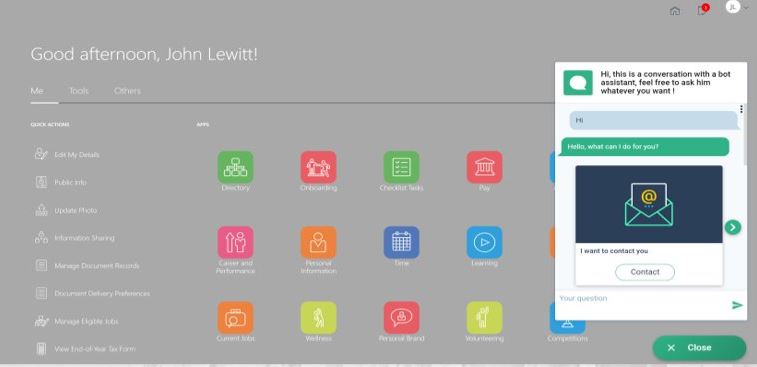 Robotic Process Automation (RPA)​
Robotic Process Automation is the automation software or a robot to emulate and integrate the actions of human interacting with digital systems to execute business processes.​
RPA bots can be designed so that they can interact with different systems through integrations and screen scraping like replicating employee actions.​
Key features are as below:​
Integrating with enterprise tools by connecting to system APIs, reading and writing databases.​
Scraping data from the web.​
Data processing like making calculations, extracting data from documents, inputting data to forms, extracting and reformatting data into reports and dashboards etc.​
Launching and using various applications including opening emails and attachments, logging to applications, moving files and folders.​
HCM RPA Use Cases​
RPA can be used to automate different HR processes which would decrease in process time, a major reduction in errors, and a high potential for scalability.​
Automation of leaves and vacation requests​
Expense and reimbursement processes​
Onboarding and Offboarding processes​
Applicant sourcing​
Many more processes where data entry and other repetitive processes are important.​
HCM Helpdesk​
HCM RPA Example
We have used UiPath for RPA.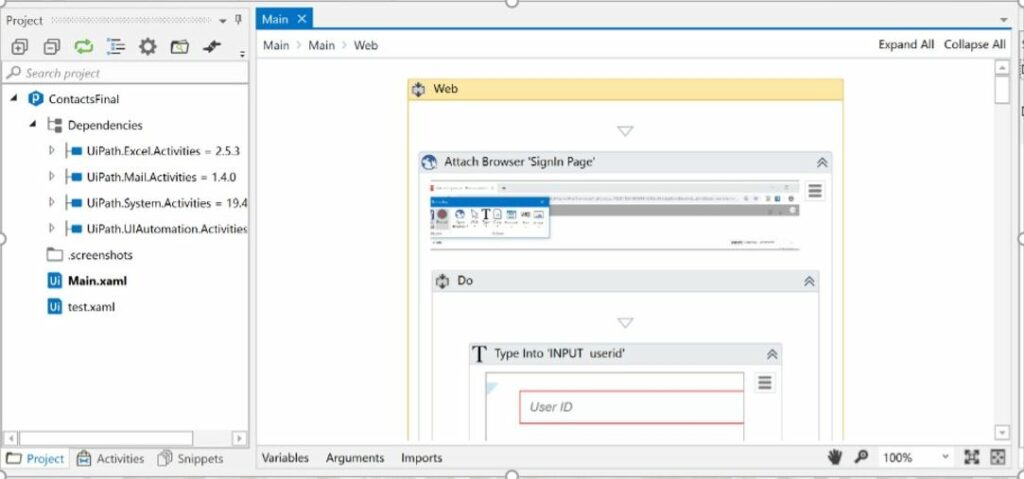 Machine Learning (ML)​
Machine learning is a method of data analysis that automates analytical model building. It is the part of AI where system can learn from data, identify patterns and make decisions.​
Machine Learning can handle a large amount of the repetitive and time consuming HR functions, and thus free up HRs to allocate more times and resources on other HR activities.
HCM ML Use Cases​
Machine learning can already efficiently handle the following:​
Scheduling of HR functions such as interviews, performance appraisals, group meetings and a host of other regular HR tasks.​
Analytics and reporting on relevant HR data​
Streamlining workflows​
Improve recruitment procedures​
Reducing staff-turnover​
Personalize training​
Measure and manage engagement​
Enhance rewards and recognition programs​
Applicant assessment and tracking​