How to use Out-of-box Tools in Cloud HCM to Meet Legislation Requirements.
Oracle HCM Cloud
Our company decided to move from open HR system to Oracle HCM Cloud.​
By this way standard HR processes like maintaining HR data, performance reviews, competencies etc can be streamlined within a single HR system.​
Advantage of selecting Oracle HCM Cloud:​
Lower cost on Infrastructure and Hardware maintenance​
Benefit from continuous improvement​
Enhanced user experience with complete HR Lifecycle​
Benefit from enhanced compatibilities like digitalization, social and analytics​
GDPR compliant application​
Oracle HCM Cloud – Midsize​
Clarity has subscribed Oracle HCM Cloud midsize with the below cloud services.​
Global HR​
Career Development​
Expenses​
Goal Management​
Performance Management​
Transactional Business Intelligence​
Use Cases/Issues for us​
For Norway Localization​

Exporting Employee information to Skatt(Norwegian Tax Authority) using HCM Extract.​

Importing Absence data from NAV(Norwegian Social Services) through HDL.​

Talent Review Meeting on Medarbeidersamtale using Performance Evaluation.​

​Additional cases​

Employment Contract with New Hire.​
Probation End Alert.​
Customization of My Dashboard for useful links.​

Paradigm shift*​
Available Tools & Processes​
Oracle HCM Cloud provides a set of tools to cover various scenarios. ​

HCM Data Loader (HDL) : Web UI to Import batch data​
Oracle WebCenter Content Server (WCC) : For import and export data, UCM.​
HCM Extract : Web UI to export batch data​
OTBI/BI Publisher Report​
Customizations​
Product Functionality(Performance Review)​

Apart from the above, below are some features which can be used to leverage legislation specific requirements.​

Oracle Integration Cloud: Gather data from external data feeds, format it, and then import it into Global HR Cloud. Automate load using HCM SOAP API of HDL and automate extract.​
Oracle SOA Cloud Service : Define flows to automate the importing or exporting data in Oracle Global Human Resources Cloud.​
HCM Extract​
Description:​
HCM Extract is a flexible tool for generating report and data file with different supported formats.​
Functionalities: ​
HCM Extract can be used to extract, archive, transform, report and deliver high volumes of HCM data from Oracle HCM. ​
The output formats supported in HCM Extract are CSV, XML, Excel, HTML, RTF, PDF.​
Multiple delivery methods supported in HCM Extract i.e. SFTP, FTP, Email, UCM etc.​
Additional Use Cases:​
Extract can be built to deliver HCM data to 3rd party Payroll , Benefit systems etc.​
Extract can be built for integration between different in-house Legacy systems.​
Employee Payslip can be designed using HCM Extract to be delivered under documents.​
HCM Data Loader(HDL)
Description:​
HCM Data Loader is a tool for bulk-loading and maintaining data. The tool can be used for data migration, ongoing maintenance of HCM data, and coexistence.​
Functionalities: ​
Bulk Loading of HCM Data from any source.​
Data Migration or incremental updates​
Flexible, pipe-delimited file format​
Automated and user managed loading​
Additional Use Cases:​
Inbound integrations from other legacy systems to HCM Cloud.​
Inbound integrations from 3rd party systems.​
Web UI and Tools​
Web UI utilities like HDL and HCM Extract can be used for loading and extracting business objects in bulk respectively; and integrations.​
Integration with Tax Authorities​
Integration with Skatt​-
Skatt is the government agency for Norwegian Tax Administration and is responsible for resident registration and tax collection.​
Employer needs to register with Skatt about pay information and retrieve Tax deduction card of Employees.​
There is a possibility to design custom outbound integration with Skatt with details required and delivered to their SFTP server directly.​
Tool used HCM Extract​
Steps (Integration with Tax Authorities)​
With user having BI Admin access create custom Report using standard data models.​
With user having HCM Extract access, build HCM Extract with required parameters, fields and then compile the Extract.​
Enter registered SFTP details on output delivery method.​
Schedule the delivery with required frequency.​
Integration for Social Benefits​
​Sick Leaves – NAV​
NAV is a public welfare agency responsible for Norwegian Labour and Welfare Administration.​
Sickness benefits compensate for the loss of wages for those who are occupationally disabled due to an illness or injury. Employers pay up to certain days, and after that NAV pays benefits to Employees. ​
Employer need to record the long term leaves for auditing purpose.​
Custom Inbound Integration can be designed so that file sent from NAV to Employer with HDL formatting is loaded to HCM system.
Tool used HCM Data Loader​
Steps (Leaves – HDL)​
NAV sends leave details in CSV file which needs to be converted to HDL Format (.dat file with keywords for HDL).​
Upload the file to server manually through web UI/automation through Web Center Content Document Transfer Utility or webservice call.​
Load data manually using web UI/automate HCM Data Loader Integration Service.​

Medarbeidersamtale
Performance Evaluation​
Description:​
Performance review is a standard functionality for recording performances of employees with configurable process flow. ​
Functionalities: ​
Configurable process flows , sections and notifications​
Both goals and competencies can be evaluated​
360 degree performance evaluations with continuous feedbacks from different participants​
Streamline integration of Performance evaluation to compensation module if configured within the same system​
Additional Use Cases:​
Competencies evaluation for continuous improvement of employees​
Multiple Performance evaluations throughout an year with final rating flow to employee profile.​
Review Meeting – Medarbeidersamtale​
A system should be able to record review meeting in the system. To have recorded employee's aspiration and expectation would help line manager to manage efficient talent in the organization later on. Based upon the documentation, line manager can create Learning and opportunity for employee.​
The possible solution to handle this through performance document with inclusion on tasks of Review Meeting and Final Feedback by both Manager and Employee as part of agreement.​

Steps(Medarbeidersamtale)​
With user having Performance access design process flow with task to include review meeting and final feedback.​
Create sections for Manager feedback and Employee feedback.​
Create eligibility profile to include employees.​
Build Performance Template with above process flow, sections, eligibility profile and performance document with evaluation review period and date.​
Run the batch eligibility process to assign the Performance document to eligible employees.​
Now the flow can be followed to complete the evaluation process to record the review meeting and feedbacks from employee and manager.​
Additional Use Cases, Tools, and Notes​
Oracle WebCenter Content server(UCM)​
Oracle WebCenter Content is the infrastructure for the staging of data files for processing by the HCM Data Loader. ​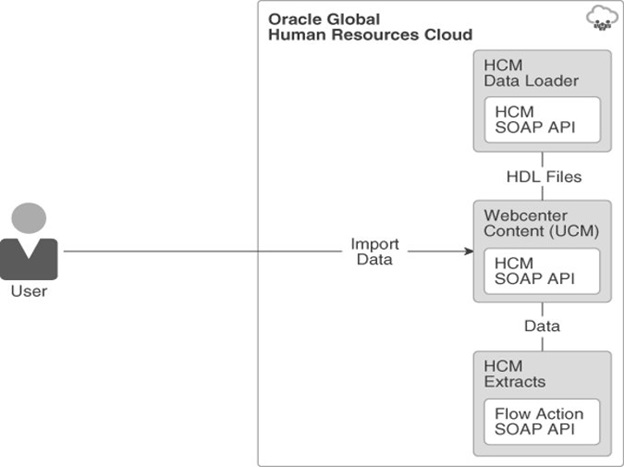 Oracle Integration Cloud or Oracle SOA Cloud Service​
Oracle Integration Cloud or Oracle SOA Cloud Services can be used to automate bulk loading and extraction of data from HCM Cloud.​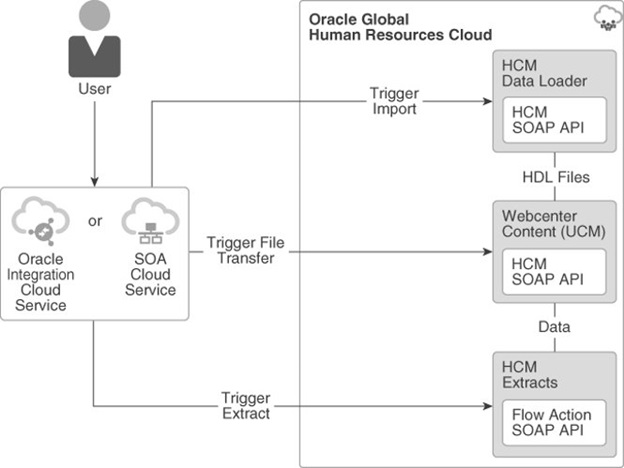 Customization – My Dashboard​
My Dashboard for Employees can be customized to include contents like useful URLs for websites, Reports and Analytics etc.​

Employment Contract – New Hire​
As part of Employment Regulation in Norway, Employer needs to release Employment Agreement/ contract to New Hire. ​
The solution can be achieved through using standard hire process and reporting functionalities. There are some manual steps also involved like acceptance/rejection of offer by New Hire and cancelation of new hire on system by Employer.​
The above solution is a possible solution if you have only Global HR license. If you have subscribed for Talent Management cloud, then you can use offer management feature of Recruiting to streamline the process in advanced way.​
Steps – Employment Contract​
The below steps may be the possible solution by using out of the box tool.​
Add the person as Pending worker in the system with possible start date, Home Email address and salary components​
Build custom report and schedule for users to receive it and then accept/reject the offer manually. Employee needs to sign the copy and send back to Employer. Once accepted, then convert pending worker to Regular Employee in the system. If rejected, cancel Hire.​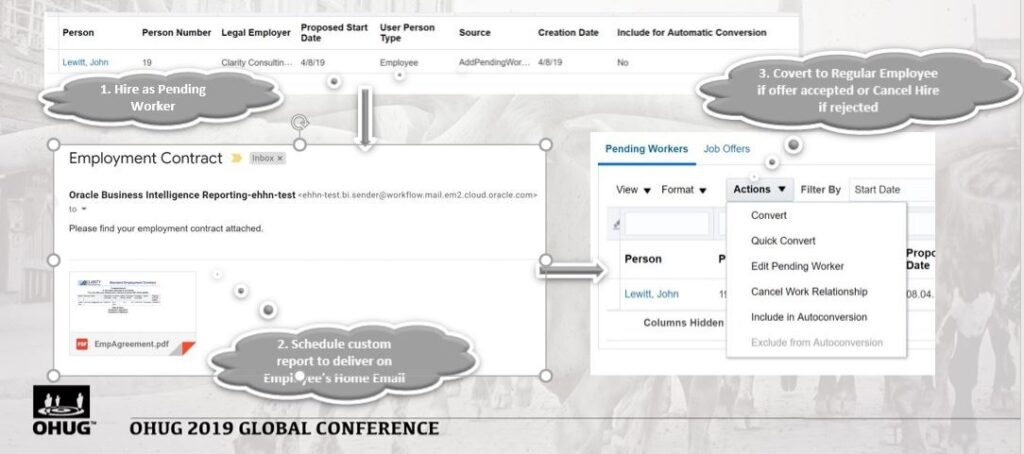 Probation End Alert​
Interviewing employee upon probation completion is an useful approach to understand employee's aspirations and expectation from the Organization. This offline process is called Medarbeidersamtale in Norway and regular in many businesses.​
The system should trigger report to both Employee and Line Manager to inform about the Probation End is approaching.​
There is no standard Probation End Alert , so to mitigate it BI Publisher Report or OTBI Report can be build with delivery of messages to intended recipients.​
Steps(Probation End Alert)​
Login with user having BI Admin access and develop OTBI/BI Publisher Reports as per the requirement.​
Use the bursting mechanism to deliver the report to intended recipients​
Run the report to check the results​